If you do not pay attention to the outside of your business, you can't protect everything going on inside. From inventory to technology, all of the things that make your business successful are held under one roof. Protect that roof and you will protect everything inside.
Types of Commercial Roofing
Commercial roofing often uses very different materials than traditional residential shingles. This requires a specific knowledge and expertise of both commercial roofing materials and processes. We have the experience to maintain, repair, or replace a wide variety of roofs, including these types of commercial roofing materials:
| | |
| --- | --- |
| Thermoplastic Roofing | This is a commercial building material also known as TPO, this roofing material is designed to last 20+ years, and has a high resistance to fire, chemicals, puncture, winds, and hot temperatures. |
| EPDM (Rubber) Roofing | This roofing material is designed for durability and versatility. They are easy to install, maintain, and repair. |
| BUR & Modified Bitumen | Often referred to as "tar and gravel" roofs, built-up roof membranes (BUR) alternate layers of bitumen and reinforced fabrics to create a finished membrane. Modified bitumen (MB) roofing is asphalt-based and used for commercial buildings with low-slope or "flat" roofs. |
| Metal Roofing | Metal roofs are an excellent choice for commercial buildings. They're energy efficient and environmentally friendly, as well as very affordable to maintain. |
| Shingles | Small and home-based businesses often use the same types of shingles and materials used on residential properties to provide a long-term barrier from the weather. |
| Slate Roofing | Slate is a proven roofing solution that's available in a variety of colors, shapes, sizes and thicknesses. Slate commercial roofs can have an incredible long lifespan, lasting up to 100 years without needing a replacement. |
| Tile Roofing | Similar to slate, tile roofing are available in a variety of colors, sizes, and shapes. Tiles work well in both cold and warm climates because of their ventilation and water shedding features. |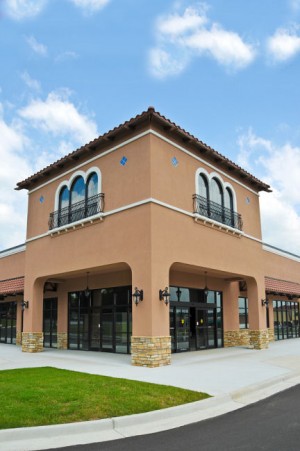 Programs for Property Managers
For landlords, owners, and property managers, building maintenance can be a constant struggle. Whether you run a nursing home, own an apartment building, or are renting out your condo, maintaining any type of property requires time and work. Let us take some of the hassle off your hand and make sure your residents stay comfortable and dry.
Hail Damage 
Louisville, KY and Southern IN business owners are no stranger to severe storms including wind, rain, hail, and heavy snow. Mother Nature can wreak havoc on your roof without notice. Hail damage may seem like simply an aesthetic issue, but even small areas of dents or cracks can lead to severe water damage in the future. Our commercial roofing contractors are trained to look for past, current, or potential damage areas and fix any problems before they cause serious issues.
Roof Replacement
Over time, shingles wear down. Even without substantial storm damage, older and historic buildings may be ready for a complete roof replacement. If your roof has missing, buckled, cracked or curled shingles it may be time to call us for a new roof estimate. We can provide you with a reliable, new roof to keep you covered.
Leave Us the Paperwork
Most commercial property insurance plans includes roof repairs and replacements, but dealing with the insurance company, claims, paperwork, phone calls, and getting the payment can be overwhelming. Let us take care of that part. We will file the insurance claim and handle all the paperwork from start to finish. Get the peace of mind you are looking for without the hassle.