Roofs are the most important part of our home and business's weatherproofing. Unfortunately, Louisville, KY and the surrounding areas are known to have a constant change in weather which can lead to various types of roof damage. When your roof is compromised, incalculable destruction can happen in a very short period of time.
A storm damage roof can ruin your home and most valuable possessions. To prevent this from happening to you, the experts at The Roof Doctor have compiled a list of things to look for. If you notice any of the following damage on your roof please feel free to have us inspect your roof and if necessary provide a Free Pre-Claim Inspection & Estimate on all repairs or replacements as needed.
---
CLAWING SHINGLES
Clawing refers to curling under the shingle tab's bottom edge and is part of the normal aging process of shingles. The bulge created makes the shingle very susceptible to substantial damage from wind, hail and ice.
---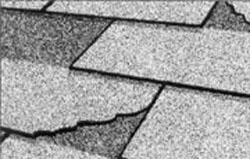 BROKEN SHINGLES
Damage can be caused by extreme wind conditions or snow removal. Since shingles are designed to shed water, broken, torn or missing tabs become entry points for water.
---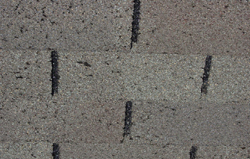 HAIL DAMAGED SHINGLES
Hail damage can dislodge the protective mineral granules of an asphalt shingle, producing areas of exposed asphalt shingle substrate.
---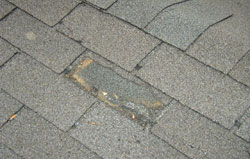 WIND DAMAGED SHINGLES
Wind damage may not always be visible from the ground. Shingles can be lifted from strong winds and loose the ability to reseal. Shingle edges are designed to seal to the shingles below when installed and the ambient temperature is warm enough.
---
Pleasant experience, they handle storm damage well. I would recommend The Roof Doctor. We had some extensive storm damage at a busy time for us and for the entire area. The job was long and lot's of issues outside of the original consideration came up. Whenever any problem came up they addressed it immediately. They went further than they planned to go and they didn't know they would have to do more work until they uncovered it. This didn't cost me extra. I think they are 100 perfect!

—Charles C.
Very nice, friendly crew. We have a Bed and Breakfast, and after a hail storm our roof was damaged. We had a small problem, part of the repair was crooked, and we called the owner and with in hours they had it fixed. Everything went great, and I would highly recommend them. They were good. We appreciate them so much.

—Rita D. – Millview Bed and Breakfast